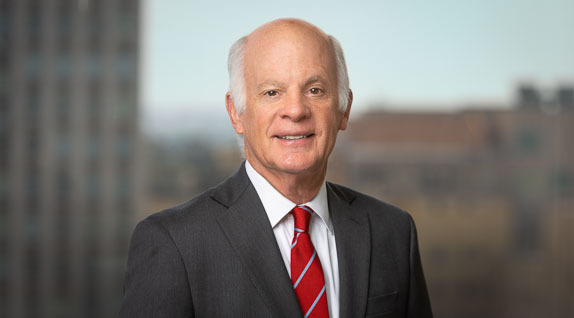 George
C.
Freeman, III
Member
Litigation Focus
Clerkships
Law Clerk to the Honorable Albert Tate, Jr., United States Court of Appeals for the Fifth Circuit
Law Clerk to the Honorable Henry A. Mentz, Jr., United States District Court for the Eastern District of Louisiana
Education
University of Virginia, J.D.,1982, M.A., 1982
Oxford University, B.A., 1977 (Rhodes Scholar)
Emory University, B.A., 1975
Recognitions
Chambers USA, Ranked in Band 1, Securities Litigation
The Best Lawyers in America, since 2003
The Best Lawyers in America, Securities Litigation 'Lawyer of the Year' New Orleans 2014, 2021
Benchmark Litigation, Local Litigation Star
Louisiana Super Lawyers, since 2007
Martindale-Hubbell AV® Preeminent™ Peer Review Rating
American Law Institute
Recipient, Monte M. Lehman Distinguished Teaching Award, Tulane University Law School
George C. Freeman, III, is a founding member of the firm. His practice focuses on securities litigation, arbitration, and enforcement. He primarily represents financial advisors and broker-dealers, together with their respective officers, directors, and employees, in customer disputes and in SEC and FINRA proceedings. He also represents underwriters, issuers, and trustees in securities class action cases. Outside the field of securities, George concentrates in complex financial and commercial litigation.
George has been recognized by Chambers USA in the field of Securities Litigation, and by Best Lawyers in the fields of Bet-the-Company Litigation, Commercial Litigation, and Securities Litigation. According to Chambers USA, George's clients and peers have referred to him as "one of the best" securities litigation and arbitration attorneys in the country, and have praised his "academic, scholarly knowledge of securities law." Another securities client describes George as "a lion of the securities arbitration bar" and "the best in-court trial lawyer" he has ever seen.
Notable Representations
Led team representing broker-dealer in over 350 FINRA arbitrations arising out of the collapse of the Puerto Rico municipal bond market. Investors alleged that financial advisors concentrated their customers excessively in Puerto Rico municipal bonds and bond funds without adequately disclosing the risks of sector and geographic concentration. The firm consistently achieved excellent results in arbitration hearings and in settlements.
Led team representing broker-dealer in nearly 500 FINRA arbitrations, and in state and federal courts cases, nationwide arising from six high-yield bond funds that collapsed during the 2007-2008 market meltdown. The firm took dozens of arbitration cases to final award, with most resulting in take-nothing decisions or awards representing only a small fraction of the amounts sought by the claimants.
Represented senior executive of national broker-dealer in regulatory proceedings and civil litigation arising out of a multi-billion dollar ponzi scheme.
Represented broker-dealer in federal trial and appellate courts nationwide in successfully obtaining injunctions barring investors from pursuing their claims before FINRA. Every federal court rejected the investors' arguments and required investors to litigate rather than arbitrate their claims.
Represented senior executive of a publicly-traded company who, with his company, was a target of an SEC investigation into the company's restatement of its annual financials.
Represented multiple broker-dealers in hundreds of arbitrations and regulatory proceedings in the aftermath of the dotcom crash and in the aftermath of the financial crisis.
Handled dozens of cases, over a period of five years, relating to accusations of inaccurate stock assessments contained in research analyst's reports.
Professional and Civic Activities
George has long been a member of the American, Louisiana, and New Orleans Bar Associations, as well as the Securities Industry and Financial Markets Association and the American Law Institute. He has served as an arbitrator for the National Association of Securities Dealers, the New York Stock Exchange, and the American Arbitration Association. He also has taught jurisprudence, constitutional theory, and securities litigation and arbitration for over twenty-five years as a member of the adjunct faculty at Tulane University Law School, where he is a full Professor and a recipient of the Monte M. Lehman Distinguished Teaching Award.
George is also active in community affairs. He has served on the Boards of Directors of Trinity Episcopal School, FirstLine Schools, the Louisiana Center for Children's Rights, and on the Tulane Cancer Center Community Advisory Board.
News
Publications and Presentations
Publications
"Securities Class Actions and Derivative Suits: Fifth Circuit," Securities Litigation Subcommittee Annual Surveys, American Bar Association (1996-2003)
"Fifth Circuit Symposium: Securities," 40 Loyola Law Review 819 (1995) (co-author with Stephen H. Kupperman)
"Selected Topics in Securities Arbitration: Rule 15c2-2, Fraud, Duress, Unconscionability, Waiver, Class Arbitration, Punitive Damages, Rights of Review, and Attorneys' Fees and Costs," 65 Tulane Law Review 1301 (1991) (co-author with Stephen H. Kupperman)
"Fifth Circuit Symposium: Securities," 35 Loyola Law Review 1017 (1989) (co-author with Stephen H. Kupperman)
"Liberalism and the Objectivity of Ethics" (reviewing J. Fishkin, Beyond Subjective Morality: Ethical Reasoning and Political Philosophy), 47 Louisiana Law Review 1235 (1987)
"The Misguided Search for the Constitutional Definition of Religion," 71 Georgetown Law Journal 1519 (1983)
Past Experience
Stone Pigman Walther Wittmann, L.L.C.