Partner David Landever to Lead Panel Discussion for IADC's Diversity and Inclusion Committee's Active Ally Series
April 18, 2022
On Thursday, April 21st, the IADC's Diversity and Inclusion Committee will host a virtual panel discussion titled "Becoming an Active Ally with a Focus on Allyship with Colleagues with Disabilities: How to Get Involved, Stay Involved, and Educate Others About Racial and Social Injustice." For the discussion, David Landever, Member of Barrasso Usdin, and Emily Quyan, Litigation Counsel at Eaton Corporation, will be interviewing Lisa Sutton, Vice President/Chief Counsel--Regulatory Matters at Eaton Corporation. Lisa will share personal stories regarding the struggles disabled lawers face and provide ideas for making a workspace more accepting and welcoming for disabled lawyers.
For more information and to register, please click here.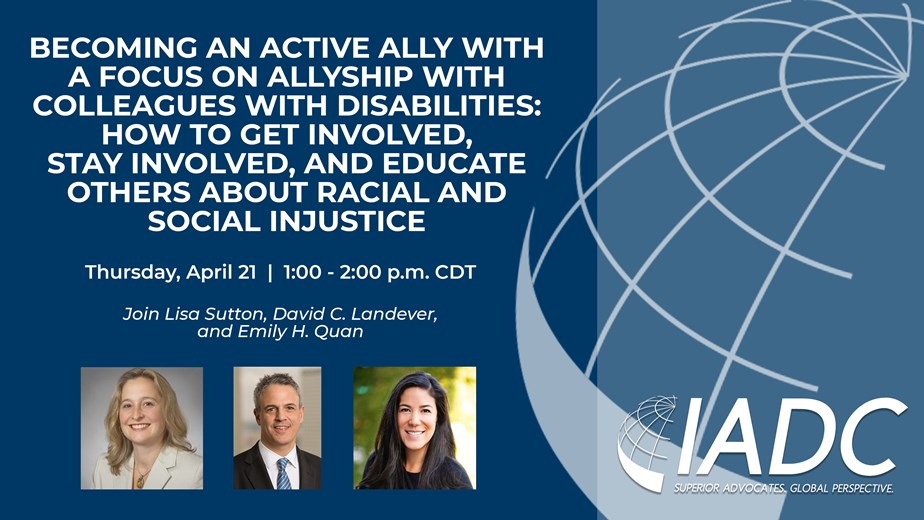 About Barrasso Usdin Kupperman Freeman & Sarver, L.L.C.
Barrasso Usdin Kupperman Freeman & Sarver is a boutique litigation firm based in New Orleans. The Firm has experience litigating complex civil cases throughout the country, including all types of commercial disputes, class actions, environmental cases, product liability and toxic tort cases, intellectual property cases, insurance bad faith and coverage cases, and securities arbitrations, litigation, and regulatory matters.