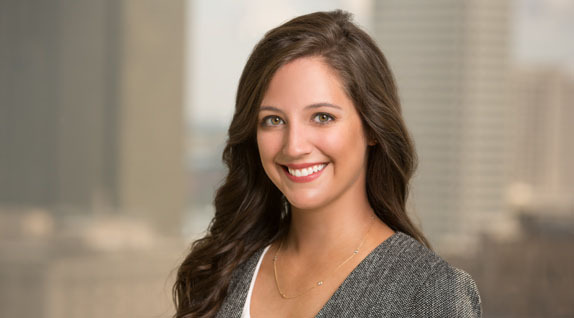 Litigation Focus
Clerkships
Law Clerk to the Honorable Stephen A. Higginson, United States Court of Appeals for the Fifth Circuit
Law Clerk to the Honorable Sarah S. Vance, United States District Court, Eastern District of Louisiana
Education
Tulane University Law School, J.D., Summa Cum Laude, 2015
Louisiana State University, B.A., Magna Cum Laude, 2012
Recognitions
Best Lawyers, Ones to Watch, 2021-2024
Louisiana Super Lawyers, Rising Star, 2022, 2023
New Orleans CityBusiness,
Leadership in Law, 2022
New Orleans CityBusiness,
Ones to Watch: Law, 2021
Louisiana State Bar Association Young Lawyer Division's 2022 Top 40 Award and Outstanding Lawyer of the Year Award
Tulane University Law School Faculty Medal
Tulane University Law School Dean's Medal
Tulane Law Review, Associate Editor (Volume 89) and Member (Volume 88)
Order of the Coif
LSBA Civil Law Award
Chloé M. Chetta is licensed in Louisiana and Texas. Her practice focuses on most types of complex and commercial litigation, with special emphasis on appellate issues.
Her experience includes contract disputes, non-compete and antitrust issues, and other business litigation. She represents financial companies and advisors in employment and securities matters, including succession fights and other disputes over financial assets. She also represents insurance companies in high-stakes coverage and bad-faith cases. And Chloé particularly enjoys civil rights and other federal constitutional litigation.
Chloé has served as trial counsel in judge and jury trials and in arbitration, and regularly handles state and federal appeals. She has been peer-selected for her commercial, insurance, and appellate work among "Best Lawyers: Ones to Watch," named among Louisiana Rising Stars, and recognized by New Orleans CityBusiness magazine as "One to Watch." New Orleans CityBusiness magazine also selected Chloé for its Leadership in Law Class of 2022.
Before joining the firm, Chloé served as a law clerk to the Honorable Stephen A. Higginson of the United States Court of Appeals for the Fifth Circuit and to the Honorable Sarah S. Vance of the United States District Court for the Eastern District of Louisiana and the Judicial Panel on Multidistrict Litigation.
While in law school, Chloé worked as a research assistant for Professor A.N. Yiannopoulos, editing his fifth and final edition of the Louisiana Civil Law Treatise's volume on property law, and for Professor Gabriel Feldman, focusing primarily on federal antitrust issues. After graduation, Chloé served as a junior member of the Louisiana State Law Institute, an organization dedicated to improving Louisiana law to secure the better administration of justice.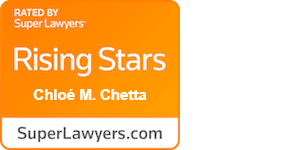 Notable Representations
Persuaded the United States Fifth Circuit Court of Appeals to partly reverse a bench-trial judgment in favor of landowners pursuing millions in breach-of-contract damages against their former fiduciary and natural resources manager.
Defended broker-dealer in wrongful termination dispute with a former advisor seeking over $3 million in damages, leading arbitration panel to award the broker-dealer nearly half a million dollars instead.
Represented pro bono a wrongfully convicted person in a civil rights suit against a local District Attorney, leading to a near-seven-figure settlement for the exonerated client.
Represented energy company at the Louisiana Supreme Court on federal constitutional issues surrounding judicial recusals as they relate to campaign activities of publicly elected state-court judges, leading the Court to unanimously reverse the challenged appellate court decision.
Represented two insurance companies at the Mississippi Supreme Court on extraordinary interlocutory review, leading the Court to reverse on two complex, but underdeveloped procedural issues of non-random case reassignment and references to special masters under Mississippi law.
Defended broker-dealer and financial advisor against conspiracy claims in multi-level succession, community property, and trust dispute over inherited IRA issues by obtaining pre-discovery dismissal of all claims.
Defended a financial advisor against fiduciary-duty, contract, undue influence/elder abuse, and securities claims in a succession dispute by heirs seeking to be named account beneficiaries by obtaining pre-discovery dismissal of all claims with prejudice.
Obtained federal court temporary restraining order, without notice, preventing wrongful termination, bad-faith breach of contract, and defamation of a financial advisor against his former firm before negotiating a favorable resolution of all claims.
Successfully defended on appeal district court ruling in commercial insurance tower dispute, leading appellate court to adopt a novel causation theory for interpreting "occurrence" language in commercial liability policies.
Professional and Civic Activities
Chloé is an active member of both the local and national Federal Bar Association. She serves as Chair of the Executive Committee of the New Orleans Chapter's Younger Lawyers Division and on the national Federal Judicial Law Clerk Committee, where she works closely with the national Diversity & Inclusion Committee to create programming focused on increasing diversity in judicial clerkships. Chloé also serves as the president of the nationwide Tulane Law Review Alumni Association.
Chloé maintains a strong pro bono practice, representing indigent and pro se litigants in federal court and providing appellate consulting to non-profit and public interest organizations.
News
Publications and Presentations
Publications
"Divining the Real Nature of Real Obligations," 92 Tulane Law Review 127 (2017) (with L. David Cromwell)
Comment,

"

The '100-Mile Colonial Leash': The Durability of the Federal Subpoena Rule in Twenty-First Century Multidistrict Litigation," 89 Tulane Law Review 277 (2014)
Presentations
"

Procedural Pitfalls: State v. Federal Practice," Louisiana Young Lawyers Conference (March 31, 2023)

"Pretrial Motions in Federal Court," Louisiana State Bar Association "Back to Basics" Seminar (September 30, 2022)

"Back by Popular Demand, Legal Writing by the Numbers: A Judicial Survey of Dos, Don'ts, and Other Tips," Federal Bar Association CLE (September 21, 2022)
"Fourth Annual Removal and Remand Bootcamp," New Orleans Bar Association (July 28, 2022)
"Legal Writing by the Numbers: A Judicial Survey of Dos, Don'ts, and Other Tips," Federal Bar Association CLE (June 15, 2022)
"Federal Practice Series: Effective Brief Writing in District Court," Federal Bar Association CLE (with the Honorable Barry W. Ashe) (March 10, 2022)
"Third Annual Removal and Remand Boot Camp," New Orleans Bar Association CLE (May 12, 2021)

"10 Simple Rules for Success in Federal Practice," Federal Bar Association's Annual Malcolm Monroe Federal Practice Seminar (January 13, 2021)

"

Second Annual Removal and Remand Boot Camp," New Orleans Bar Association CLE (May 28, 2020)
"The Younger Lawyer's Guide to Practicing in State and Federal Court,"

New Orleans Bar Association's Big Easy Bootcamp (October 29, 2019)

"Removal and Remand Updates," New Orleans Bar Association CLE (May 15, 2019)

"The Winning (Electronic) Brief," DRI Toxic Torts and Environmental Law Seminar (March 15, 2019)

"The Younger Lawyer's Guide to Practicing in State and Federal Court,"

New Orleans Bar Association's Big Easy Bootcamp (October 25, 2018)