Attorneys
Barrasso Usdin Awarded Camille Gravel Pro-Bono Award by the New Orleans Federal Bar Association
August 25, 2022
Barrasso Usdin Kupperman Freeman & Sarver, L.L.C. has been awarded the Camille Gravel Pro-Bono/Public Service Award by the New Orleans Federal Bar Association. The Camille Gravel Award recognizes an attorney or firm who has done substantial pro bono or public service legal work. The Firm was recognized at the New Orleans Chapter of the Federal Bar Association Annual Meeting and Awards Luncheon on Thursday, August 25, 2022, at the Four Seasons Hotel New Orleans.
The Firm's commitment to pro bono work and efforts to promote and celebrate the pro bono work of the firm's attorneys have been recognized by this award. In total, Barrasso Usdin attorneys have spent nearly 3,000 hours on pro bono work since 2020 alone. Below is a sample of some of the firm's pro bono work over the past few years.
ACLU of Louisiana – Justice Lab Initiative: The Firm is working with the ACLU on its new initiative, Justice Lab, for which they have sought assistance from firms to bring sec. 1983 claims on behalf of Louisiana plaintiffs who have been the victims of racially motivated stops and seizures and the use of excessive force by police. Their goal is to bring 1,000 cases, with the aim of influencing the application of qualified immunity for officers. The Firm is lead counsel in one case, local counsel in several more, and is also assisting third-party groups in filing amicus briefs.

Shaun McFall, Robert Dressel, and Whitney Antoine are representing a litigant as part of the firm's work with the ACLU/Justice Lab initiative. Our client was the victim of police brutality following a protest last year, and our team filed a Sec. 1983 complaint against several police officers in Jefferson Parish.

EDLA 1983 lawsuit: Chloé M. Chetta was appointed by the EDLA to represent a litigant in a Section 1983 suit against the Orleans Parish District Attorney seeking civil damages arising out of his wrongful conviction, which forced him to spend almost 20 years in Angola. Assisted by Chrissy Calogero, Stephen Klaffky, and Lance Waters, the team has been litigating this case for the past 4 years, including successful motion to dismiss briefing, depositions, and, most recently, expert discovery that helped get the DA's office to the table. Over the past few weeks, the team finalized a favorable settlement agreement with the DA's office to settle the case.
EDLA employment discrimination case: Stephen Klaffky and Taylor Gamm were appointed by the EDLA to represent a pro se plaintiff in an employment discrimination case. The client had an adjustment disorder and claimed she was not provided reasonable accommodations, was subject to a hostile work environment, and was constructively discharged from her administrative position at the Army Corps of Engineers. Although ultimately unsuccessful at the summary judgment stage, Stephen and Taylor worked hard to get up to speed in the case, including the entire EEOC investigative file, and filed a strong brief trying to prevent summary judgment.
U.S. Supreme Court Amicus Briefing: A team including Kyle Siegel, Shaun McFall, Chloé Chetta and Alex Gjerston recently partnered with multiple non-profit organizations dedicated to supporting and advocating for sexual assault victims. Together, they filed an amicus brief with the United States Supreme Court supporting the petition of a sexual assault victim who was asking the Court to recognize her right to pursue a civil rights case against a district attorney for failure to investigate her claim.
Fifth Circuit Habeas Appeal: Chrissy Calogero was appointed by the U.S. Fifth Circuit to represent an indigent Louisiana state inmate in connection with his habeas appeal. After briefing and argument before the Fifth Circuit, Chrissy was originally successful in getting a unanimous panel to grant habeas relief. However, after two rounds of rehearing briefing, the panel ultimately denied relief. Chrissy Calogero found a novel circuit split and filed a cert petition with the United States Supreme Court on behalf of the client.
Compassionate Release: Chrissy Calogero has represented several inmates in connection with their applications for compassionate release in federal court. Notably, she, along with Stephen Klaffky and Michael Balascio, represented an inmate with Parkinson's Disease, who was granted compassionate release and released from prison in 2021, years ahead of his original release date.
State Post-Conviction: Lon LeSueur represents a prisoner who was convicted of murder by a non-unanimous jury, though he exhausted his direct appeals prior to SCOTUS's Ramos decision. Lon continues to seek post-conviction relief for our client.
Security Deposit Recovery Project: Taylor Gamm has worked with Southeast Louisiana Legal Services on its Security Deposit Recovery Project, which seeks to pair attorneys with low-income tenants trying to recover security deposits that have been unlawfully withheld by landlords. Taylor is representing a client in her bid to recover a deposit.
Interdiction Proceeding: A firm attorney represented clients in interdiction proceedings through The Pro Bono Project. She successfully represented a client seeking interdiction for her aunt, who suffered debilitating lead poisoning as a child and who is a trauma survivor. The interdiction judgment gives them access to additional government benefits that will significantly improve the aunt's living conditions.
Title VII: Shaun McFall led a case bringing Title VII retaliation and gender discrimination claims against US government on behalf of a client. The client was a former grain inspector at USDA who, among other things, was denied a promotion despite having higher test scores than her male colleague who received the promotion. After extensive discovery and with summary judgment motions pending, Shaun was able to reach a favorable settlement.
Redistricting Project: The Lawyers' Committee for Civil Rights Under the Law, a national non-profit organization, engaged Judy Barrasso and the firm to assist in a nation-wide research project aimed at looking at the redistricting process in several states. Taylor Gamm researched the redistricting process in Louisiana, including mechanisms for public input, responsible entity for redistricting, data to be used/adjusted, etc.
2022 Redistricting Cases: Judy Barrasso is working as co-counsel for Jenner & Block representing several Tulane and LSU math and science professors who have intervened or filed amicus briefs in the redistricting cases challenging the enacted congressional districts.
Election Protection: The firm has hosted and participated in election protection efforts organized by the Lawyers' Committee for Civil Rights to help ensure that all voters have access to polling places. Judy Barrasso has also worked with several non-profit organizations in the efforts in 2020 to have early voting at the Smoothie King Center as well as other locations.
In 2020, the firm, Judy Barrasso, Michael Balascio, John Joyce, Chrissy Calogero, Chloé Chetta, and Lorcan Connick assisted in the representation of the City Council in a lawsuit filed against the Secretary of State's office involving the removal of ballot boxes ahead of the 2020 election.
La. Supreme Court Amicus Briefing: Chrissy Calogero and Chloé Chetta each represented two different organizations—The Brennan Center and the Due Process Institute—in connection with amicus briefs filed in the Louisiana Supreme Court in case involving Sixth Amendment right-to-counsel issues and the underfunding of the public defenders' office.
Fifth Circuit Amicus Brief: Robert Dressel and Chloé Chetta recently filed an amicus brief in the Fifth Circuit on behalf of Disability Rights Louisiana, Louisiana Center for Children's Rights, Autism Society of Louisiana, and Loyola Law Clinic.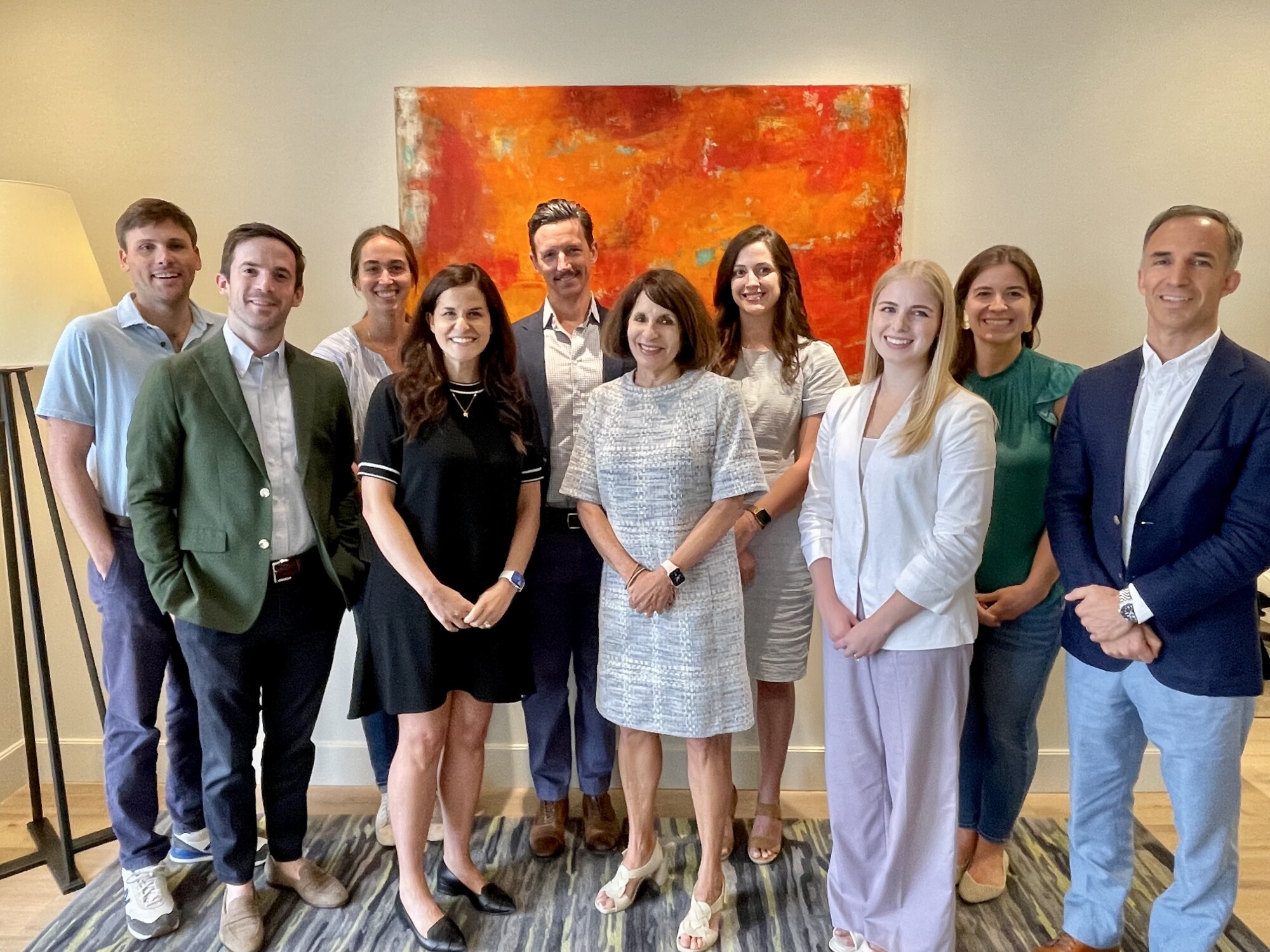 Pictured above are some of the Barrasso Usdin attorneys who have dedicated time to pro bono work this past year.
About Barrasso Usdin Kupperman Freeman & Sarver, L.L.C.
Barrasso Usdin Kupperman Freeman & Sarver is a boutique litigation firm based in New Orleans. The Firm has experience litigating complex civil cases throughout the country, including all types of commercial disputes, class actions, environmental cases, product liability and toxic tort cases, intellectual property cases, insurance bad faith and coverage cases, and securities arbitrations, litigation, and regulatory matters.