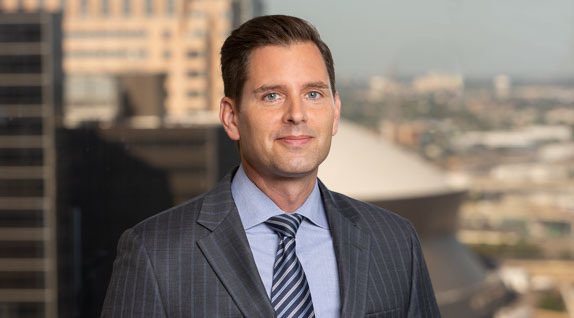 Litigation Focus
Clerkships
Law Clerk to the Honorable James L. Dennis, United States Court of Appeals for the Fifth Circuit
Law Clerk to the Zurich District Court, Zurich
Education
Northwestern University School of Law, J.D., Cum Laude, 2007
University of Zurich Law Faculty, J.D., lic. iur., Magna Cum Laude, 2002
University of Zurich, B.A., cand. iur., 1999
Recognitions
Benchmark Litigation, Future Star, 2019-2023; Under 40 Hot List, 2016, 2017
The Best Lawyers in America, 2022-2024
Louisiana Super Lawyers, Rising Star, 2016-2018
New Orleans Magazine, Top Lawyers, 2018
Owen L. Coon/James A. Rahl Senior Research Program, Research Honors
Founding Co-President, The Northwestern University Comparative Law Society
David N. Luder is the firm's managing partner. He maintains a varied arbitration and litigation practice covering a broad spectrum of industries and disputes. A key focus of David's practice is financial services arbitration and litigation. He regularly represents domestic and international broker-dealers, banks, hedge funds and registered investment advisors in FINRA and AAA arbitrations across the country and institutional clients and individuals before regulatory bodies at all stages. David also represents European clients in commercial and regulatory matters in connection with their U.S. business interests as well as their international matters. He also has been engaged as a Swiss law expert in litigations pending in the United States and he serves on the AAA Roster of Commercial Arbitrators.
David holds full law degrees from Northwestern University School of Law, Chicago, and the University of Zurich, Zurich, Switzerland. He began his career with one of the top firms in Zurich, Switzerland, where he maintained a broad cross-border arbitration and litigation practice with a heavy focus on the financial services industry (in German and English, as well as some French). Prior to joining the firm, he practiced as an associate in the international arbitration and securities litigation groups of Skadden, Arps, Slate, Meagher & Flom LLP, in New York. David clerked at both the trial and appellate level, with clerkships at the District Court of Zurich, in Zurich, Switzerland (in German) and at the United States Court of Appeals for the Fifth Circuit, in New Orleans. David repeatedly has been selected to The Best Lawyers in America and as a Future Star by Benchmark Litigation. He was also selected for Benchmark Litigation's Under 40 Hot List and was listed as a Top Lawyer by New Orleans Magazine.
David is a dual citizen of both the United States and Switzerland. Born and (mostly) raised in Zurich, Switzerland, David retains a keen interest in European business and political affairs. David is fluent in English, German, and French.
Notable Representations
Representing or represented clients in over 100 arbitrations under the auspices of the American Arbitration Association (International Dispute Resolution Procedures of the International Centre for Dispute Resolution, the Commercial Arbitration Rules, the Consumer Arbitration Rules, and the Construction Industry Arbitration Rules), FINRA Dispute Resolution, the International Chamber of Commerce, and the Zurich Chamber of Commerce (Swiss Arbitration Rules).
Representing financial services conglomerate in a variety of FINRA arbitrations arising out of fixed income products under the FINRA Rules.
Representing European individuals and financial services clients in pre-arbitration disputes and litigation before state and federal courts across the country, as well as cross-border regulatory and compliance matters.
Representing or represented individual and institutional clients in regulatory, enforcement and litigation matters involving the sale and marketing of cryptocurrencies.
Represented broker-dealer in dozens of FINRA arbitrations across the U.S. arising out of the sale of proprietary mutual funds in connection with alleged losses arising out of the credit crisis.
Represented broker-dealer in securities litigation arising out of failed hedge funds with approximately $300 – $400 million in claims.
Represented senior executive of national broker-dealer in SEC and FINRA regulatory and enforcement proceedings and civil litigation arising out of a multi-billion-dollar Ponzi scheme.
Professional and Civic Activities
David is a member of the New York City Bar Association, the Louisiana State Bar Association, and the New Orleans Bar Association. Throughout his career, he has participated in pro bono efforts involving a broad array of topics with a particular focus on indigent post-trial relief efforts in state and federal courts.
News
Publications and Presentations
Past Experience
Skadden, Arps, Slate, Meagher & Flom LLP, New York
Meyer Muller Eckert Partners (now MME Legal Tax Compliance), Zurich